Sara
Kanji

サラ

Rōmaji

Sara

Characteristics

Race
Gender

Female

Age

Undetermined

Height

5'9"

Weight

156 lbs

Birthday

August 5th

Hair Color

Red

Eye Color

Green

Blood Type

B

Professional Status

Occupation

Apothecary

Personal Status

Status

Active

Abilities

Magic
Techniques
Image Gallery
Sara
(サラ
Sara
) is a Salamander-themed
Witch
who has became the target of
Meister
and
Weapon
pair:
Liam Buchanan
and
Eden
.
Appearance
Edit
Sara is a noticeably beautiful woman with a tall stature and curvaceous figure. She has long, shoulder length crimson hair under a large yellow hat whih adorns a green ribbon around it, her most noticble feature is the fact she wears a monocle on her right eye and it rests on the bridge of her nose. Her eyes are green and her complexion is pale yet healthy and she wears circular earrings on both ears.
She wears a dip-dyed red dress which slowly becomes white at the hip region and has a lace at the bust and the collarline and sleeves are decorated with a serrated-look triangular hem. Inside the dress' sleeves and bosom are pockets where her wand and various potion vials are kept.
Personality
Edit
Relationships
Edit
Powers & Abilities
Edit

Talented Potioneer: An unusual witch skill, Sara has proven herself a talented potioneer, she was able to brew several different potions including explosion inducing liquids, several poisons and a potion that mimics the effects of Regenerative Magic.
Magic Power: Sara's main source of combat comes from her ability to use magic. Her brand of magic is based around the theme of salamanders, she can create and manipulate fireballs shaped like salamander-esque creatures. Unlike most witches however, Sara uses most of her abilities through a magic wand.
Familiar Summoning
: As with her existing magical abilities as a Witch, Sara can also summon her Familiar,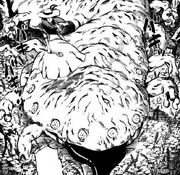 Estufa
(エスチュファ
Esuchufa
), who takes the form of a large, multi legged salamander with the ability to breathe fire.
Equipment
Edit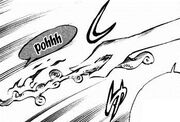 Wand: Unlike most witches, Sara's magic is used through the use of a wooden cane-like wand.The wand is quite long and has several spiral like protrusions jutting out of it's length.
Potion Vials: Also like her wand, she keeps several vials of magic potion inside them inside her dress sleeves.The vials are thin and seemingly made o glass, but get thicker as it gets urther down the vial and they are topped with several different shaped stoppers.
Sara's familliar Estufa's name is Galician for Salamander.