"Feel free to gaze upon its brillance :)"
This article Revere, is the property of Sky and no user may edit this article without permission from the original creator. If you wish to use this article in any sort of way, please contact the creator first and we can discuss there.
Revere
Kanji

リビア

Rōmaji

Ribia

Alias

The White Knight

Characteristics

Race

Human (Meister)

Gender

Male

Age

15

Height

170cm

Weight

120lb

Birthday

May 30th

Hair Color

Brown

Eye Color

Blue

Blood Type

A+

Professional Status

Affiliation
Previous Affiliation

Witch's Liar

Occupation

Meister

Previous Occupation(s)

Prisoner

Weapon
Rank

3-Star Meister

Team
Partner(s)
Base of Operations

Personal Status

Status

Alive

Relative(s)

All Deceased

Abilities

Magic

Celsius

Fighting Style
Techniques

Overcharge
Yin Yang Slash
Revere
(リビア,
Ribia
) is a 3-Star meister currently partnered up with his weapon,
Eagle
. Revere is born as a sorcerer, capable of using the magic
Celsius
, which is the manipulation and summoning of the elements of fire and ice. Due to this, his parents abandoned him and left him to fend for himself. Revere started commiting robbery in order to survive, and was thrown into prison. He is soon picked up by a witch and adopted him. However, the witch performed experiments on him, allowing Revere to grow in magical power. At the age of 13, the witch was killed by the meister and weapon pair
Sinclad
and
Lyon
, starting Revere free from his pains. In admiration of the two, Revere followed them back to
Shibusen
and became the meister partner of
Eagle
. Revere and Eagle soon became a 2-Star pair.
Appearance
Edit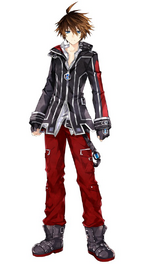 Revere is a handsome young man in his teens, with mesy brown hair that sticks out in all directions. He even has an ahoge. He has icy blue eyes and a fair skin. Revere has many scars across his body, which he stated that many of them were from the witch that adopted him. He is also quite muscular and lean.
Revere was a variety of different clothing, but his most frequent attire is his "battle attire". It consists of a black jacket with white stripes and red shapes, that is unzipped at the bottom and the top. The sleeves are cuffed to reveal black fingerless gloves with a blue gem attached to it. Underneath the jacket is a white dress shirt, similar to what Death the Kid wears. This is accomplied with red pants with a black belt, and black boots with buckles and red soles.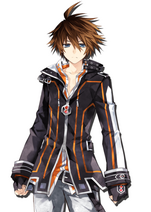 His secondary attire is pretty much the same as his primary one, except in a different color scheme. Instead of white stripes and red shapes, it is now orange strpes and white shapes. The gloves and zipper were previously blue, and now it is orange. His dress shirt is now orange as well, with white stripes. The pants are now white, with the shoes being black with orange soles.
Personality
Edit
Synopsis
Edit
Powers and Abilities 
Edit
Meister Abilities
Edit
Soul Menace
Edit
Techniques
Edit
Soul Resonance Techniques
Edit
Magic Abilities
Edit
Relationships
Edit
Revere's appearance is based off of Fang from Fairy Fencer F.
Revere's magic Celuis, is based off of Shouto Todoroki's Quirk's Half-Cold Half-Hot from the manga series Boku No Hero Academia.