Eden
Kanji

エデン

Rōmaji

Eden

Alias

Demon Gauntlet (魔手袋 Matebukuro)

Characteristics

Race
Gender

Female

Age

16

Height

5'7"

Weight

130 lbs

Birthday

January 7th

Hair Color

Pink

Eye Color

Brown

Blood Type

B

Professional Status

Affiliation
Occupation

Student

Meister
Base of Operations

Death Weapon Meister Academy

Personal Status

Status

Active

Abilities

Weapon Form

Gauntlet

Techniques
Image Gallery
Eden
 (エデン
Eden
) is a
Demon Weapon
whose weapon form is a large mechanical gauntlet and is partnered with
Liam Buchanan
. She is also the first non-human weapon shown in the series, as a
Harpy Monster
.
Appearance
Edit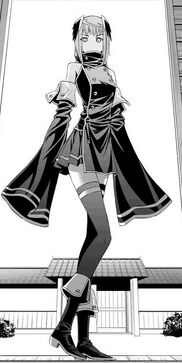 Personality
Edit
Relationships
Edit
Powers & Abilities
Edit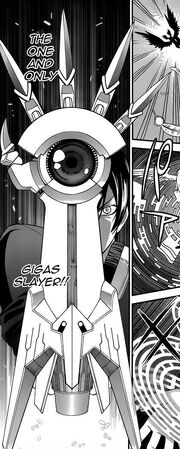 Demon Gauntlet (魔手袋 Matebukuro): Eden is a Demon Weapon with the ability to transform her entire body into that of a large, mechanical looking gauntlet that Liam wears on his right arm, it has long, pointed mechanical fingers and a jet engine on the end of the elbow. The gauntlet itself is silver and robotic looking in appearance with a large red jewel like substance embedded in the back of the hand. Also the elbow has a face like structure with wing like patterns stretching out through it.
Flight: By using her Harpy powers, she transforms the wing like structures on the elbow part of her gauntlet she is able to fly and they enable her meister to fly with her.
Raven's Fang (カラスの牙 Karasu no Kiba): By using the jet engine portion of her gauntlet, Eden propels forward using Liam's already great speed and he launches a powerful punch which was shown to rip through a mechanical construct with little to no effort.
Harpy Transformation
: As a Harpy Monster, Eden's natural form is that of a bird/human hybrid. She can morph her hands and feet into avian claws and sprout large wings from her back. She can alternate btween her three forms, transforming from harpy to human to her weapon state with little to no effort.